How it works
Great hair minus the guesswork. Finally
1. Send a Starter Set
Tell us who it's for and where to ship their test kit.
2. They Test Their Hair
We'll walk them through how to select their fragrance, test their scalp and analyze their hair in our test kit.
3. We Customize
Once our team of scientists complete their hair analysis, they will get a hair report and their first set of customized products shipped directly to their door.
What's Included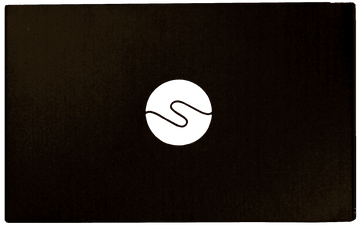 Free hair test kit ($199 value) - ships first
Our scientists analyze hair cuticle, texture, protein levels and scalp health to get an accurate profile of hair that your loved one will discover on a personalized, interactive hair report.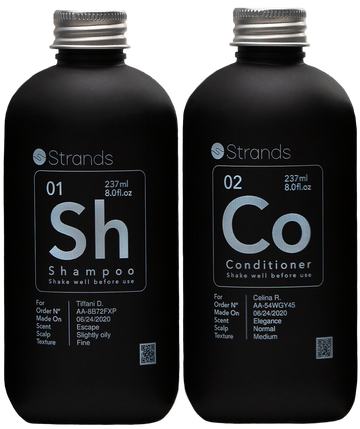 Custom Formulations - shipped after we analyze the hair
This set includes one 8 oz shampoo and one 8 oz conditioner formulated based on the hair analyses results, environment and lifestyle.
Frequently Asked Questions
Can I gift the shampoo and conditioner without a hair test?
We can only formulate a shampoo or conditioner to a person's specific hair profile after we've tested their hair. We want to make sure we're customizing their hair products based on real data from their strands.
Do Strands products work for all hair types?
Our hair care products are inclusive to all hair types and conditions since each product is designed based on a person's individual hair data, routine, environment and lifestyle.
What's included in the Starter Set?
They will receive two separate shipments:
The Test Kit
Sebum test strips
Scent cards
Sample collection bag Pre-paid
Return envelope
The Products
Customized shampoo
Customized conditioner
Pumps
Hair analysis report and ingredient list
Is the shampoo and conditioner color safe?
Yes, all of our products are SLES- and SLS- free. These are the typical ingredients known to cause color-loss.
Is the shampoo and conditioner safe for keratin treated hair?
Yes, as long as they indicate that they treated their hair with keratin during our online kit activation. Our chemists will ensure to design their formulations without any ingredients known to affect keratin treated hair.
Are your products silicone-free?
Depending on their hair test results, our chemist might recommend silicones in their product. If they prefer not to have silicones, they will be able to select silicone-free formulas during your online hair diagnostic or they can let our team know by reaching out at
hello@strandshaircare.com
.In some cases, silicones alternatives may not work as well, but we do understand that some people prefer silicone free.
Can they request to remove specific ingredients from their products?
Yes, we are able make their formulations vegan and free of silicones, dye, mineral oil, wheat, honey, nuts, hemp, aloevera, and avocado oil. Although we don't encourage modifying our formulas because of the way they are created, we do understand that they may want some ingredients removed.
Does Strands perform DNA testing?
We do not perform DNA testing on any of our customer hair samples.
How do they select the product scent?
Each test kit includes 4 scent cards to smell and select their scent preference. They will be able to select your scent preferences once you activate your kit. We do offer a fragrance free option.
Please add gift recipient details: